There are more and more DC ceiling fan being introduced to the Australian ceiling fans market. In the past, big AC fans were typically less expensive compared to big DC fans. Today however, their price difference is negligible due to their payback advantage. In this article, we will try to point out differences between the above fan types so that it can help you choose and purchase the correct fan type for your application, DC or AC.
Firstly, let's talk about DC Ceiling Fans
The advantages of DC over AC ceiling fans are:
In most cases, they use lesser energy than AC – up to 70% lesser.

They are generally extremely quiet.

The motor is generally more compact and lighter, which allows for a slimmer motor design.

They will often have more speed options, the reverse function on the remote, and are generally faster to start, stop and change speed.
Fanco Urban 2 DC Ceiling Fan with Remote – White 52″
$299.00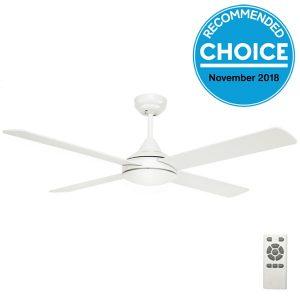 Fanco Eco Silent DC Ceiling Fan with Remote – White 48″
$239.00
Fanco Infinity-i DC Quiet Ceiling Fan with Remote  – White 54″
$369.00
Now let's talk about AC Ceiling Fans
The advantages of AC over DC ceiling fan:
AC ceiling fan are still extremely energy efficient, a standard model will use no more than 100 watts on high speed.

AC fans can be controlled from a wall control, pull cord or remote, while DC fans can generally only be controlled by remote to configure their settings. However, remotes are more likely to be lost, broken, run out of batteries. Some DC fans are available with an optional wall controller, at an extra charge.

As 

opposed 

to 

an 

equivalent AC 

ceiling 

fan,DC 

ceiling 

fan 

are 

generally 

more 

expensive. 
Fanco Urban 2 Ceiling Fan – White 52″
$159.00
Hunter Pacific Intercept 2 Ceiling Fan – White 52″
$159.00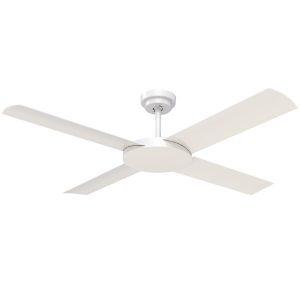 Hunter Pacific Revolution 3 Ceiling Fan – White 52″
$389.00
Overall, there are many factors that will determine which one is better, DC or AC. Ultimately, what is most important to remember is that you can get great quality ceiling fans wither either AC or DC motors. Fans which are extremely quiet, don't wobble and create good air movement. Whether or not is DC or AC, both use very little energy, equivalent to 1 or 2 standard halogen light bulbs on high speed and compare to most household appliances, this is nothing! Once you have worked out your style, budget and function needs, feel confident in going either DC or AC.
123 LED Lighting is a Singapore-based LED light distributor and solution provider for commercial and residential areas. Our mission is to proved excellent quality of service in designed to help our customers in creating healthier business and home environments while still providing them with a peace of mind of high-cost electricity bills.